Lawyers Professional Liability Insurance
Solo legal practitioners and small to medium sized law firms need comprehensive lawyers professional liability insurance coverage from Protexure Lawyers to guard against the potential harm and cost of a claim against them.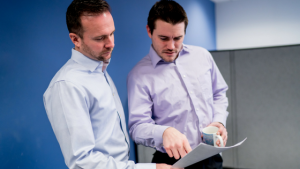 Protexure's lawyers professional liability insurance coverage is the smart choice for practicing lawyers and smaller firms because it is tailored to your specific needs, and budgetary limitations. At Protexure Lawyers, the focus is put on understanding your business and your insurance needs to make sure solo practicing attorneys and small law firms have the comprehensive coverage needed to be fully protected. Trained, experienced, and licensed liability attorney insurance specialists will work with you through the entire process to make sure you and your firm is protected from the potentially harmful claims. The Protexure team will partner with you to make sure you have full protection, but nothing additional you do not need.
Since customer service is our main priority at Protexure Lawyers, we do everything we can to make reviewing your lawyers professional liability insurance easy. Our experience and tools combine to simplify the enrollment process for our lawyers professional liability insurance, making it easier for you to protect yourself. The no-hassle lawyers professional liability insurance that we offer has been specially designed to protect solo practitioners and small firms from legal claims.
The Benefits that Lawyers Professional Liability Insurance Provides
Our lawyers professional liability insurance comes with these benefits:
We have the resources available to quote policies, as well as the tools for you to renew and manage your policy, available online.

We have over 25 years of experience to better serve you.

There are never any hidden brokerage or application fees.

We ensure that your firm isn't stuck paying the claims of larger firms.

Policyholders have a risk management hotline available to them for no additional charge

For qualified firms, we offer prior acts coverage.
Each of these benefits has been crafted with small firms and solo practitioners in mind. We want enrolling in lawyers professional liability insurance for you and your small firm to be as easy as possible. The lawyers professional liability insurance policies that we offer have been created specifically for the protection of small firms from any and all legal claims.
Why would I want Lawyers Professional Liability Insurance?
Like other types of insurance, lawyers professional liability insurance manages risk by helping to offset potential monetary losses, in this case, associated with errors or omissions you might commit while providing services to your clients. No one is perfect of course, and there are costs associated with defending even unfounded lawsuits or disciplinary complaints.
The security of knowing that you are completely protected from legal claims by our lawyers professional liability insurance is invaluable. We have broad definitions of professional services in our lawyers professional liability insurance, ensuring that you are protected from a very wide variety of claim issues. From subpoena assistance, to advertising liability, even to personal injury, our lawyers professional liability insurance has you covered.
How easy is it to get Lawyers Professional Liability Insurance with Protexure?
Very easy! At Protexure Lawyers, a streamlined, user-friendly online system makes enrolling, maintaining, and monitoring your lawyers professional liability insurance policy details easy and stress-free. Log onto your insurance coverage account anytime, day or night, to apply, renew and manage your account at your convenience, anywhere, at any time.
Protexure created an internet based insurance platform to make it easier for clients to apply for insurance and to get the their policies over the internet. The key differentiating factor for Protexure is that because the application process was built on the internet, the process has become very intuitive. Protexure Insurance Agency can issue a policy and have it emailed to the insured in half the time their competitors can.
At Protexure Lawyers, you have access to your policy, to a policy management hotline, and to a staff of experts who can deal with any situation and answer any question regarding your Lawyers professional liability insurance coverage. Your protection is our business.
If you would like to learn more about our lawyers professional liability insurance, you can give us a call at 877-569-4111. Don't wait; protect yourself today!